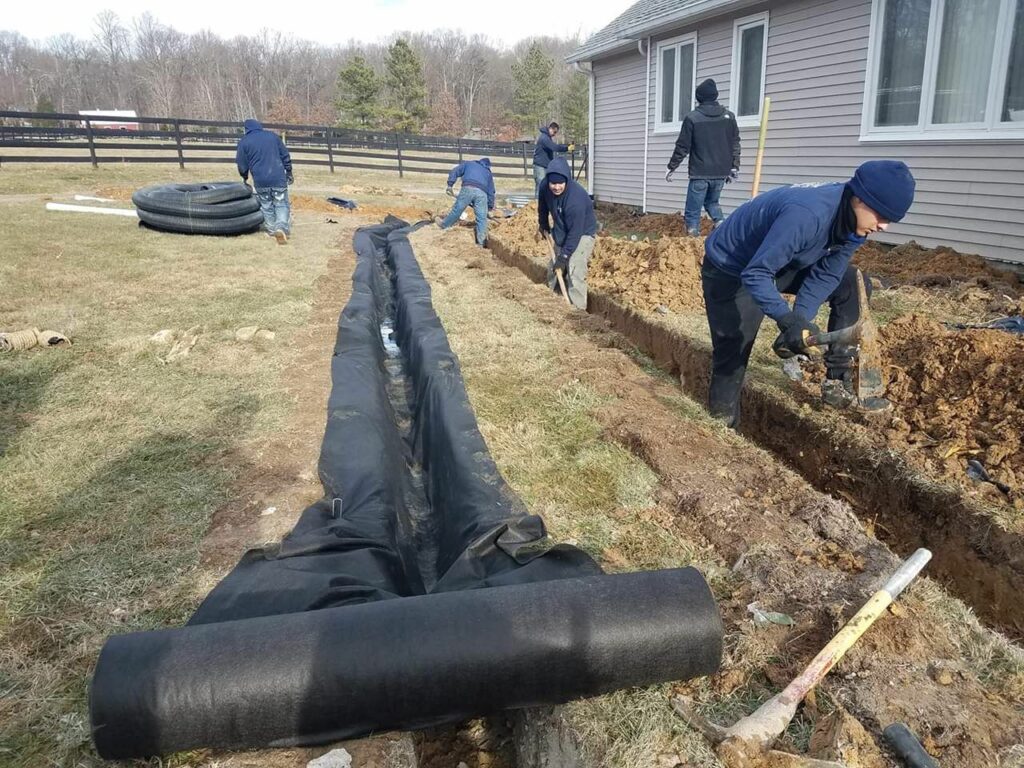 One risk of owning a home in Northern Virginia is potential basement flooding. Such an event disrupts everyone's home routine – yet an effective basement drainage system can prevent it from occurring. No matter your basement's condition, watch out for flooding indicators: a musty smell, damage to your foundations, or water stains.
If your home lacks effective basement drainage or waterproofing, reach out to Drainage & Erosion Solutions. Our design-build firm – based in Falls Church, VA – specializes in solving drainage problems. We work on residential and commercial properties, combining extensive technical knowledge with outstanding customer support. Previous clients praise our attention to detail, budgeting, and scheduling, so contact us today for an appointment.
Below, we outline the signs that water has infiltrated your basement as well as our solutions for this predicament:
Evidence of Basement Flooding
A musty smell


No matter where it occurs, interior flooding can endanger a structure's stability. Yet

basements remain particularly vulnerable to water infiltration

. And an early sign of such intrusion is a tell-tale "musty" smell arising from the space.





Water can get trapped and then heat up in a confined space. This creates pungent odors with a scent of decay or dampness. Even worse, these conditions afford opportunities for mold and mildew to grow – both of which endanger your home's occupants.

Damage to foundations/walls


Basement walls tend to be made of concrete or concrete foundation blocks. If you notice cracks or other damages in those walls, you may have an issue with flooding. Moisture – from

groundwater, precipitation, or hydrostatic pressure

– can create discolored cracks in basement walls, leading to further problems.





Once cracks open, more water can seep into your basement, widening the original entry point. This degrades your home's stability and produces a snowball effect of greater water penetration. The cracks may even spread into your concrete floor or loosen tiles on your walls if you have such features.

Visual evidence of water


Beyond cracks, water leaves other visual indicators of its presence. These include discolored water stains, which darken an affected area on the wall or floor. You may also see a build-up of calcification, or

efflorescence

, which may look like white chalk along the walls and floors.





By far the most obvious indicator, however, is standing water in your basement. If it's coming through cracks, it will build up slowly rather than appear all at once. Furthermore, it can be frustrating to locate the source of standing water, as moisture can seep through incredibly small cracks.
Our Solutions for Basement Flooding
Contact a professional waterproofing service


When you realize that you have a flooding basement,

contact Drainage & Erosion Solutions

or another preferred waterproofing service. As professionals, we possess the experience and technical expertise to correct these issues.

We can locate the source(s) of your basement's flooding

and offer custom solutions on how to stop it.

Locating the water's source(s)


The

source of your basement's excess moisture

can be one of several things, as mentioned above: groundwater, precipitation, or hydrostatic pressure. To address the problem, we must locate the source to ensure it is dealt with fully. Preventing future flooding depends on whether you are dealing with

surface

water

or

ground

water

.

Waterproofing your home


To address surface water issues, we must consider how water drains from your property. How do gutters deposit water into your yard? What slope does it contain? We may need to

regrade your lawn

to make drainage more effective or replace your gutters. Additionally, you might

benefit from a basement egress window

.





Groundwater issues tend to be trickier to prevent. The conditions around your home must be adjusted for, which tends to require more labor than surface water problems. In these cases, Drainage & Erosion Solution's

waterproofing solutions

must come into use. We'll need to dig around your home's foundation to prevent water from degrading it any further.
Reliable Basement Drainage Systems Available Now Throughout Northern Virginia
While Northern Virginia homeowners may face potential flooding problems, you can take precautions. Reach out to Drainage & Erosion Solutions for a professional basement drainage system that protects your home from costly water intrusion. Our award-winning services can repair damaged spaces and identify potential problems. With more than 40 years of engineering and landscaping experience, we bring the expertise needed to protect your home. Call us today at (703) 534-1949 or fill out our online form.