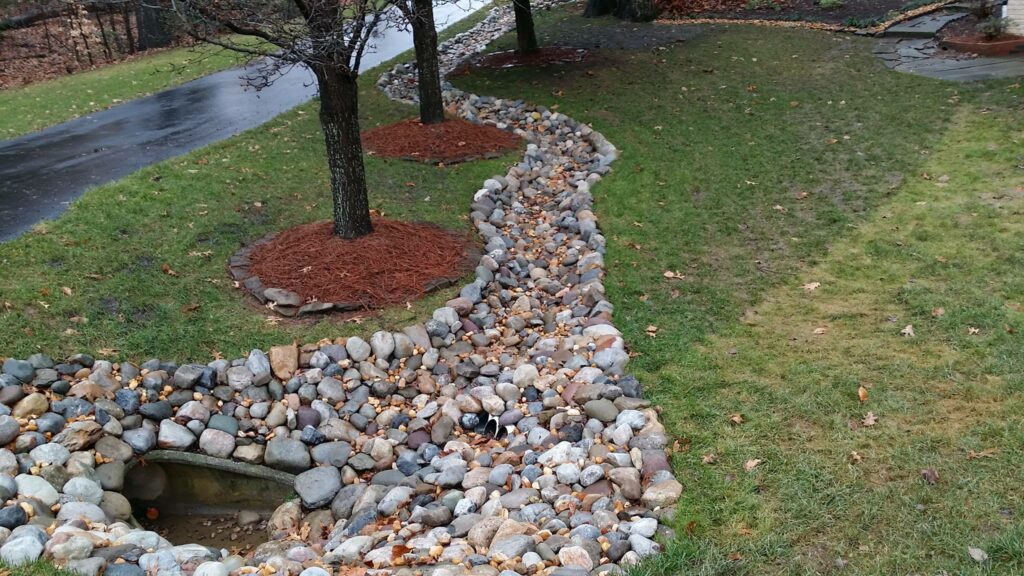 The Northern Virginia area is known for having heavy rains that can turn a trickle into a flood. On top of erosion damaging property, tree roots can be exposed and mulch beds can wash away. Not only can this leave your yard in poor shape, but it can be a hazard as well. We recommend working with a professional yard drainage system expert if you're getting more rain than you can handle.
At Drainage & Erosion Solutions, our team is experienced in creating drainage systems that are both proactive defense mechanisms and aesthetically pleasing landscaping elements. Our Project Managers have years of experience with the strategy and installation behind effective drainage swales that will stabilize soil, prevent washouts, and much more.
What is a Drainage Swale?
Drainage swales are naturally integrated into a landscape as shallow ditches that are sloped to allow sufficient drainage to occur. It works alongside gravity, effectively collecting excess water in order to channel it away. Drainage swales can also reduce stormwater runoff or be connected to a rain tank as an ecofriendly and utilitarian water source.
In comparison to other drainage systems, swales are also known to be more cost-efficient and low maintenance.
For more information, read our blog on How A Drainage Swale Can Benefit Your Lawn.
Why Choose A Professional Drainage Swale Installation?
Our team receives comprehensive training on how to properly manage the physics of a drainage system. We use the highest quality of equipment and materials; our crews can quickly and accurately install a drainage swale into your home while keeping you updated each step of the way.
Install A Custom Yard Drainage System on Your Northern Virginia Property!
Whether you're looking for a yard drainage system or additional solutions for your home, Drainage & Erosion Solutions can assist you! As an award-winning design-build company, we are proud to continue offering our clients highly-rated services and years of experience they can trust. We are available year-round to serve your needs and provide friendly services every time.
We are happy to help you with your next home improvement project! Contact our yard drainage system experts at (703) 534-1949 to discuss your concerns.