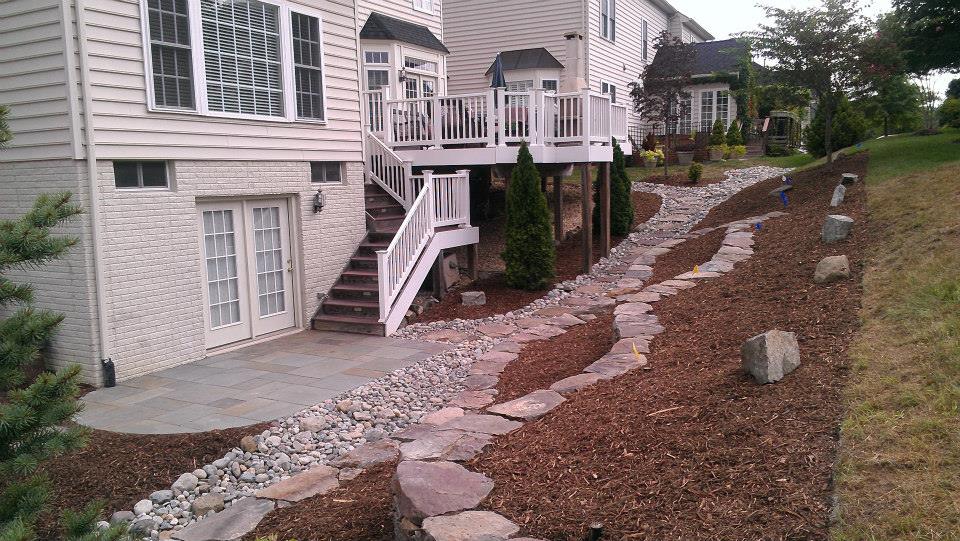 After a heavy rain, is your lawn left with puddles that turn into wet, muddy patches? A swampy lawn not only detracts from your landscape's beauty and functionality, but it can also harm your plants' health and cause water damage to your house. There are multiple options for eliminating standing water and excess runoff in your yard, and a professional can properly determine the cause and recommend the right drainage installation for you.
At Drainage & Erosion Solutions, we have a strong reputation of technical knowledge, attention to detail, and great customer service. Our team of professionals provides a variety of quality yard drainage solutions that suit both residential and commercial clients in Arlington and throughout Northern Virginia. With decades of combined experience in engineering and landscaping consultation, we have the expertise and training to ensure your drainage installation is done right, guaranteed.
Below, we provide several methods to improve your yard's drainage:
Add a Downspout Extension
The rain gutter downspouts on most homes exit near the corners of the house, allowing water to potentially flow into flower beds or landscaped areas.
Excess water collecting close to the house can cause humidity damage and mold growth, and may even begin to erode the foundation.
If you find that runoff from your gutter system is causing issues within your landscape and home, adding a downspout extension that directs water away from your house may be a sufficient solution.
However, it's important to ensure that the runoff is diverted into a storm drain or another safe drainage source rather than a neighboring property.
Build a Drainage Swale
If you have a low spot in your yard where water accumulates, digging a drainage swale will draw excess water away while also filtering runoff by allowing it to sink into the soil.
Drainage swales are long, shallow trenches usually filled with gravel or river rock that create a channel for water to flow through your property.
These can be made into beautiful additions to your landscape by incorporating decorative rocks and lining the sides with plants that thrive in moist conditions.
Install a French Drain
A French drain provides a more heavy-duty solution to poor drainage in your yard. It typically consists of a trench with perforated pipes installed below the topsoil and surrounded by gravel and geotextile fabrics to protect them from debris and prevent clogging. The pipes then disperse excess water into deep soil layers away from the house.
Regrade Your Lawn
Without your lawn properly sloping away from your house, it can become extremely difficult to resolve excess water problems with drainage installations alone.
Regrading the ground around your house will provide a more holistic system for directing water away from vulnerable areas of your home and landscape.
Drainage & Erosion Solutions: Professional Yard Drainage in Arlington, VA
While soggy areas in your yard can be unappealing and a nuisance, poor drainage also poses a threat to your home's integrity due to potential water damage and additional structural issues. At Drainage & Erosion Solutions, our expert consultants will examine your property and help you determine the best yard drainage method to ensure the health and beauty of your home and landscape.
With over 40 years of combined experience in engineering and landscape consulting, we are dedicated to providing the highest quality in drainage and waterproofing solutions to clients throughout Arlington, VA and Northern Virginia.
Contact us at (703) 534-1949 to learn more about our services and to see how we can help you today!