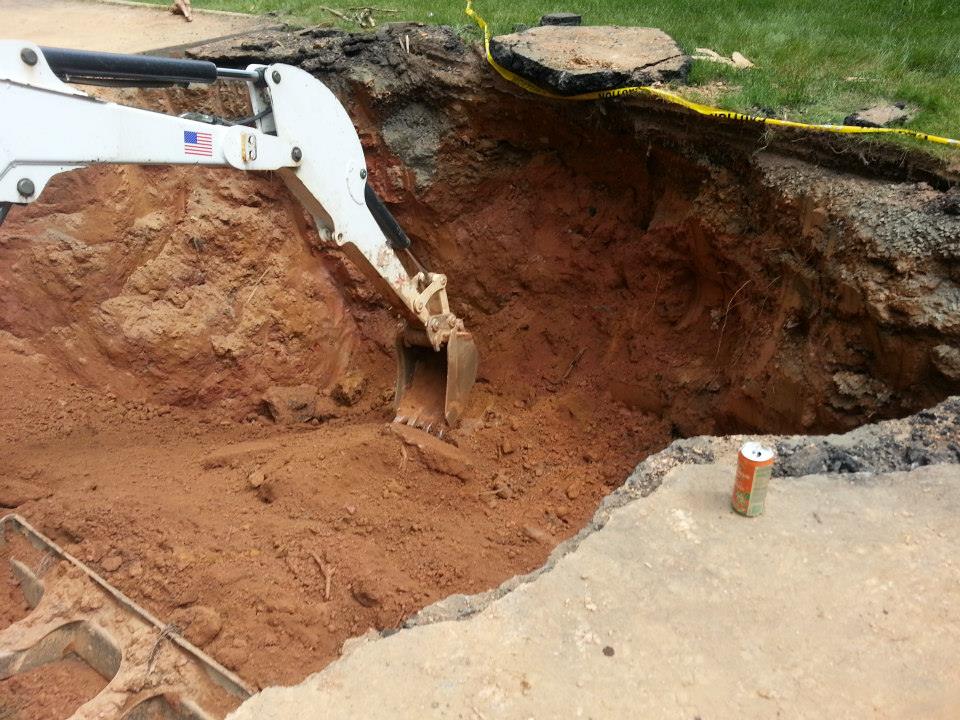 Sinkholes are commonly found in areas where a large portion of the sediment consists of salt beds, gypsum, and limestone rock. These dissolve once excess moisture sifts through the topsoil and into the sediment. Major sinkhole issues take a long time to develop. Sinkholes are often portrayed as massive, street swallowing disasters, but can be a simple foot wide safety hazard on your property. Minor sinkholes can be easily corrected by the proper contractor.
At Drainage & Erosion Solutions, we have performed numerous fill-ins and repairs involving cases of sinkholes. In our years of experience as the top waterproofing company in the Northern Virginia area, we've learned that sinkholes can cause serious damage when left unrectified. Below we've elaborated on some of the reasons it's best to call in an expert to deal with your sinkhole issue.
Other Reasons Why Sinkholes May Form
Poorly Compacted Soil: Soil that is improperly packed around the external structure of your home can end up forming a sinkhole, as water and pressure will eventually cause settling and create a depression.
Debris That Is Buried/Rotted: Vegetation or stumps left aside after landscaping will also settle into the soil over time creating a void beneath the ground that can eventually form into a sinkhole.
Leaky Water/Sewer Pipes: Excessive amounts of water beneath the ground can lead to surface depressions, which can be caused by a leak in your house's water or sewer line. This is a major issue that would develop more rapidly than more naturally occurring sinkholes.
Why You will Need a Professional to Repair Your Sinkhole
Hazardous Work
Some sinkholes are easy to fix by simply filling them in and properly compacting them, others can be hazardous to deal with.
Whenever you see a sinkhole, you're looking at it from the surface, depending on the extent of the damage, there could be more to the issue than meets the eye. Sinkholes of any size can be dangerous, especially to children or pets.
Sensitive Infrastructure
Sinkholes can form in the vicinity of highly sensitive infrastructure, such as your electrical lines, sewer pipe, or water line. This can make it difficult to perform the correct techniques to safely fill it in. DES would ensure that any plumbing or engineering consult would be called in to assess the problem from every angle before proceeding.
Lack of Required Equipment
In some extreme cases, a sinkhole will cause damage to your foundation, exterior wall, or exterior stairs due to its proximity to these structures.
For example, sinkholes that develop under sidewalks will tip the concrete at a pitch, where it will break or continue sinking. In this case the hazard created is one of falling/ injury towards pedestrians.
Drainage & Erosion Solutions: Quality Waterproofing Company in Arlington, VA
Sinkholes are a serious hazard for homeowners and should be addressed as soon as possible. They almost always form around the presence of excessive amounts of water within your property. Though you can fill in most minor sinkholes, for those that appear more problematic, call a professional sinkhole fill-in and expert waterproofing company like Drainage & Erosion Solutions of Arlington, VA. Our team has over 40 years of experience in the drainage, waterproofing, and erosion response.
Contact us at (703) 534-1949 to learn more about what makes us the best drainage and waterproofing company in Northern VA.