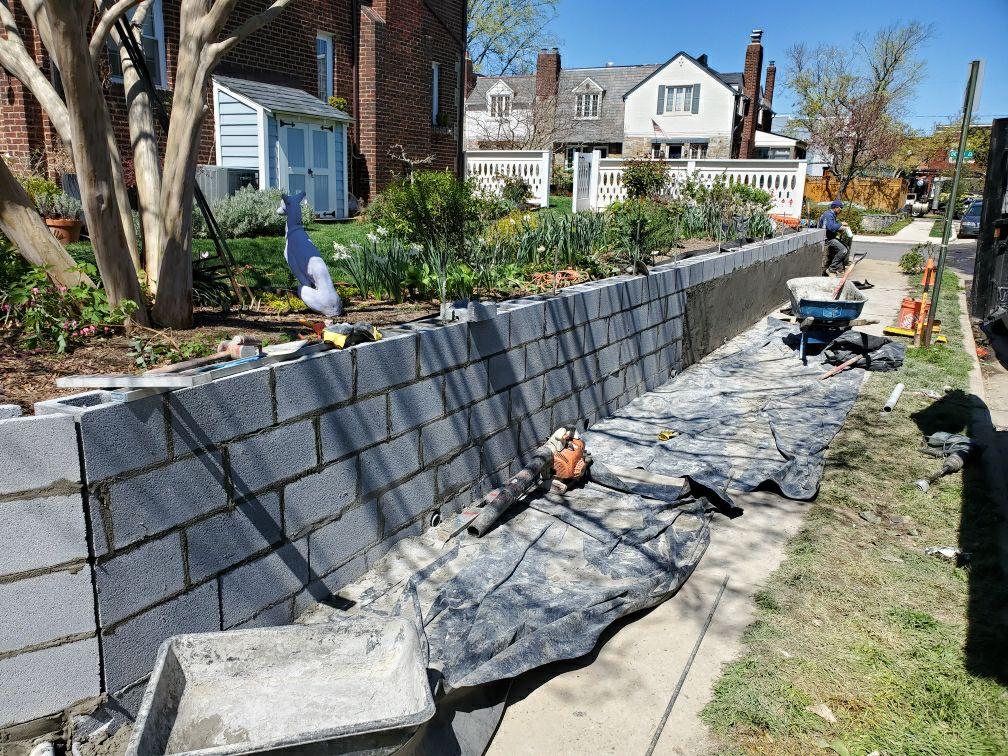 Lawncare is no joke: it is a commitment that homeowners have to consider when dreaming of a big backyard. With routine care, your yard can look well-kept and healthy. But some landscaping problems call for more than elbow grease. If your yard contains slopes or dips, for example, basic maintenance can become difficult. Such features may cause soil erosion and/or water drainage issues. And the steeper the property, the more severe issues can become.
If you're dealing with uneven land, reach out to Drainage & Erosion Solutions. We are a design-build firm that offers professional retaining wall installation, which can re-shape your yard and give you unique landscape design options. Our team is available for projects in Arlington, VA, and across the DC Metro area.
Below, we discuss more details on how retaining walls can help you to surmount your hilly terrain:
How Retaining Walls Work
To grasp its function, look at a retaining wall and picture the hill that preceded it. Someone dug out a part of that hill to create a level ground and a (nearly) ninety-degree angle. Then, to hold up the hill's remaining soil, a wall was built back in that angle.
Thus, you end up with two distinct levels of land, somewhat like two steps dug out of an incline. And though that may sound simple enough, building such a wall calls for exact measurements.
A retaining wall must hold back a lot of weight. If it's not built properly, the wall may crumble or outright collapse under the hill's weight. And this danger increases during a rainstorm when the soil soaks up water and gets heavier. That's why you should ask a pro to build a retaining wall for you.
Benefits of Retaining Walls
Retaining walls provide several perks. First and foremost, you'll notice that they create superb garden spaces. A hill is less than ideal for growing flowers and shrubs, but a retaining wall creates two terraced level surfaces out of that hill.
Also, these walls are built with one of several types of stone, which you can pick to match the rest of your landscape design. This way, they serve their function and look appealing. Pair your wall(s) with other hardscapes or patio materials in your yard to create a cohesive outdoor space.
A less obvious, but long-term benefit is that these walls prevent erosion and assist with proper drainage. With a Drainage & Erosion Solutions expert, you can create a design in which water drains away from your house and yard. This stops standing puddles from forming and helps to maintain a dry basement.
Could Your Yard Use One?
The bottom line here: could your yard use a retaining wall? Frankly, we feel that there are more than enough reasons to get one or more installed. The aesthetic and design appeals, the opportunities for gardening, and the drainage benefits all speak to a wise purchase.
You can also expand your horizons and consider features to go with a retaining wall. For instance, a drainage swale would help redirect water away from your house and property. The alliance of installations would prevent water build-ups during flash floods or drainage backups.
Call Drainage & Erosion Solutions for a Beautiful and Practical Landscape
If you're ready to give your yard a makeover, reach out to Drainage & Erosion Solutions. Our expertise and experience in retaining wall installation and design-build projects give us an edge over other contracting companies. Plus, we're locals to the Northern Virginia region and want to help make the Arlington community a safer place. Contact us today by calling (703) 534-1949 or filling out our online form.