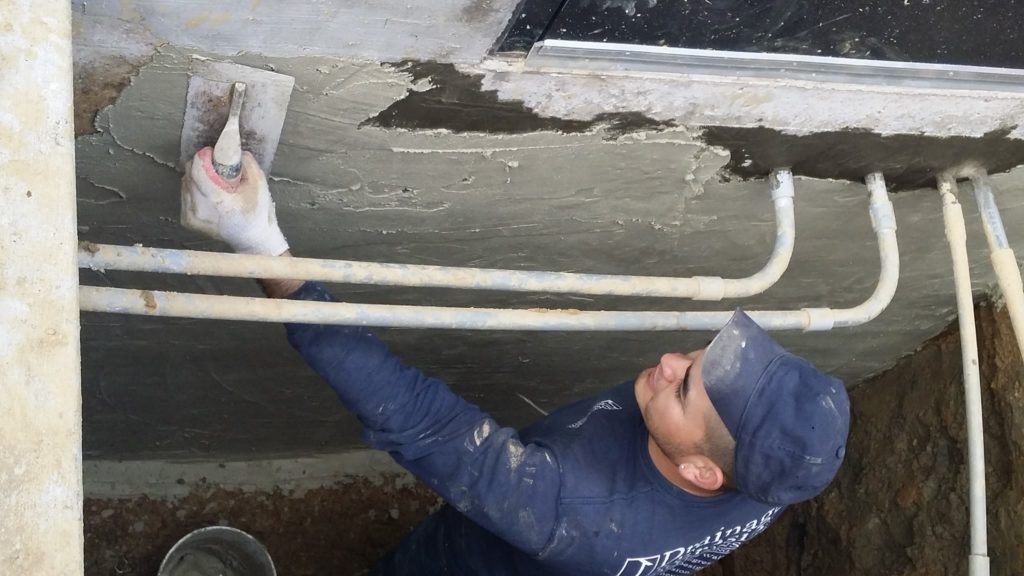 During Virginia's rainy season, the chances of having your basement flood increase significantly. The potential damage can range from ruined carpets, weakened walls, or mold and mildew issues. Before the next storm, assess any faults in your defense against heavy rains.
At Drainage & Erosion Solutions, our home waterproofing company is committed to helping our clients protect their properties from a lifetime of unpredictable weather. Our exemplary work and generous warranties can be your peace of mind through many storms to come.
Below, we discuss effective solutions for flooded or chronically wet basements:
Waterproofing
When cinder blocks or concrete foundations surrounding the house are too porous or have deteriorated over time to let water through, basements are susceptible to water intrusion. Our team exposes the foundation and assesses any cracks or gaps that may allow water through. Any vulnerabilities will be sealed and the area will be lined before the excavated area is filled back in. We will ensure that the surface will recover and blend seamlessly back into your landscaping.
Warranty
Our warranties range between 5 and 20 years. We're proud to continuously offer our customers a foundation wall waterproofing warranty that lasts for up to 20 years! Our customers say we're setting the Gold Standard with our services.
Tremco® Products
We use Tremco® sealants and plastic liners in our waterproofing projects, not only are these sealants and plastic liners efficient for adequately waterproofing your home, but they are cost-efficient as well. You will be able to get the most out of your home waterproofing project with our reassurance that your home is protected by high quality materials.
Catching Water Infiltration Early
Water intrusion often occurs due to home or basement wall leaks and various drainage issues. Don't wait until you have a full on flood, stopping water infiltration at a small leak or foundation crack can mean the prevention of major damage to your finished space.
Whether you have an older home made of cinder block or a newer home with poured concrete walls, Drainage & Erosion Solutions offers trusted solutions for every unique leak or potential intrusions to ensure they don't happen again.
Alternative Solutions
If you're hesitant to waterproof your basement, interior or exterior sump pumps can collect water and channel it out and away. Interior or exterior French drains could similarly prevent water from collecting.
However, the best solution will always be stopping further water intrusion, which requires repairing the damage to your foundation with a waterproofing installation. If you're only experiencing a wet basement in certain areas, it may be sufficient to waterproof a specific section of your home as opposed to your entire property. Consult with our specialists prior to beginning any waterproofing projects for your home.
Choose A Professional Home Waterproofing Company in Arlington, VA!
At Drainage & Erosion Solutions, we have over 40 years of extensive experience as a home waterproofing company in Arlington, VA, and throughout Northern Virginia. We've provided high-quality services such as waterproofing, French drainage system installations, downspout extensions, regrading and much more, all with the trained hands of our skilled teams.
Allow our team to keep your home free of water intrusions! Contact us at (703) 534-1949 to learn about our services and schedule a free consultation.