If you've noticed water pooling in your yard or basement, consider having a French drain system installed. Below, you can learn about what comprises a French drain and how the system improves drainage on one's property. But, no matter what, turn to professionals to assess your property and install your new French drain system.
Drainage & Erosion Solutions offers a variety of weather-proofing and hardscaping services to homes and commercial properties in McLean, VA. From French drains to patios and walkways, we provide the groundwork for your property to function the best way possible. Plus, our award-winning design and build firm has the knowledge and skills to operate as your one-stop-shop. Contact us today at (703) 534-1949.
Below, we explain what constitutes French drains and how they work:
What is a French Drain System?
A few types of French drain systems exist. The first and most common is an outdoor, narrow channel of entrenched pipes that redirect water away from your property. Outdoor French drains are a popular solution for surface water issues like a muddy yard, washed-out driveway, or damp basement.
Other outdoor French drains include open-trench and covered styles. Open-trench French drains consist of a narrow channel covered with rocks or gravel that allow water to drain. Covered drains, on the other hand, are concealed with soil and grass, which restores a lawn's natural appearance and usefulness. A designer may even create a hybrid of these two options.
Less common French drain systems include interior and pipeless. The former uses trenches and piping along the foundation's perimeter as well as a sump pump to transfer water from your basement to the outdoors. A pipeless French drain—as the name implies—doesn't use a pipe, thus proving less efficient for water to flow through. However, it's a useful option when excavation isn't possible or structural obstacles exist.
The advantages of installing a French drain system include its ease, efficiency, and affordability. If your property has buried water and gas lines, a pipeless French drain can help you avoid installation issues.
How Do French Drains Work?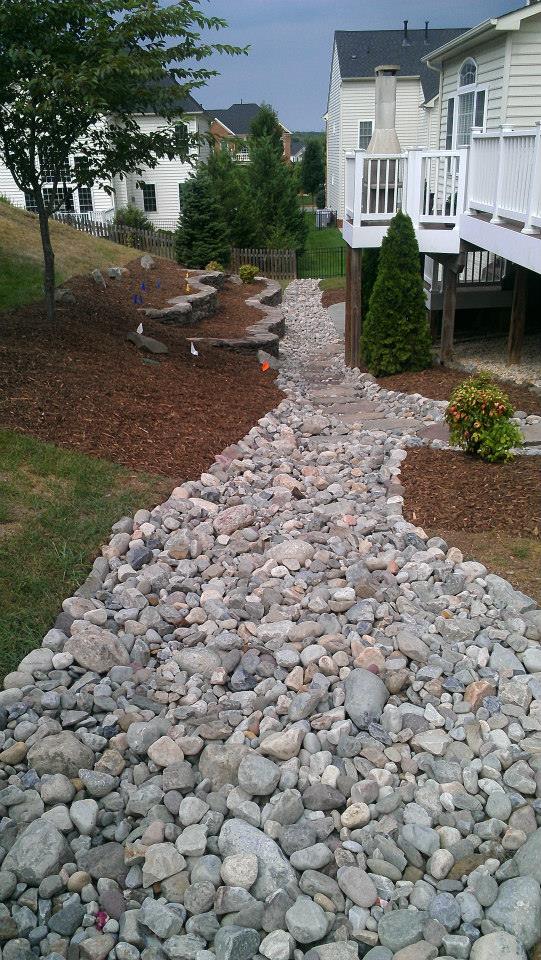 A French drain provides water an accessible, sunken path to leave your yard. Specifically, its upper end allows groundwater or extra surface water to enter the drainpipes. Then, the drainpipes carry the water down to the French drain's lowest end. Gravity guides the excess water from the surface into the ground and down a shallow decline, which requires a downward slope of about 1 inch every 8 feet.
Have a professional install the higher end and body of the French drain wherever you notice water pooling. Depending on your specific needs, the exit point can lead to a drainage ditch, a low-elevated area on your property, a dry well, or the street. You can ensure your French drain works by checking for drainage issues in your lawn or basement. The presence of standing indicates a clogged or improperly functioning drain. Sediment buildup is often the culprit. Nevertheless, call a professional to have your French drain inspected and repaired if it stops working
Drainage & Erosion Solutions: French Drain System Installation in McLean, VA
Turn to Drainage & Erosion Solutions to install a new French Drain System in your McLean, VA, home or office. We provide outstanding inspection, installation, and repair of all types of drainage and erosion services. Our professional team has a strong reputation for technical expertise, quality craftsmanship, and exceptional customer service. Choose Drainage & Erosion solutions to take care of your property by calling (703) 534-1949 or visiting our website today.