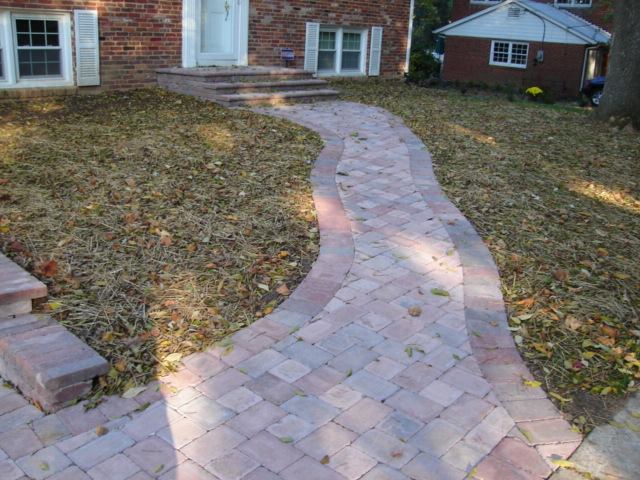 Consider the functional and aesthetic benefits of adding a walkway to your property. Walkways offer safety, design, and erosion control benefits to a variety of property types. Moreover, your local walkway and patio installation company can seamlessly integrate a walkway into your landscape and customize it to fit your needs.
Homeowners and business owners of Bethesda, MD, can count on Drainage & Erosion Solutions for drainage and landscaping needs. We offer diverse drainage solutions, including French drains, drainage swales, downspout extensions, regrading, waterproofing, and window egresses. Our team comprises engineering and contracting divisions with experienced, licensed professionals. Contact us today at (703) 534-1949.
Below, we outline the benefits of walkways:
Safety
Walkways create a smooth surface on which you can safely move about your property. Consider adding a walkway from your driveway to your front door as a safe, flat route for children and elderly guests.
Alternatively, walkways can guide you from your backyard doorway to the patio or down a slope with ease. You can opt for built-in light features to illuminate your way for added safety.
Design
You can also define your yard space with a walkway that leads the eye. Walkways can be a fundamental element of landscape design. They can separate spaces, establish continuity, and even act as a feature piece.
Create a modern appearance with raw cut stone—for a natural style—or smooth concrete. Our engineers can also implement a walkway that works in harmony with the contours of your landscape.
Erosion Control
Whether you choose inlaid stone or a continuous surface, your walkway can help control erosion on your property. Walkways prevent erosion in areas that receive heavy foot traffic, as they can stand up to weathering better than grass can.
Walkways also hold the ground in place and create a hard surface for water to drain off appropriately. At Drainage & Erosion Solutions, we offer permeable walkways as well. This option allows for light drainage through the surface in areas where harsh runoff cannot be as easily accommodated.
Professional Solutions for Drainage & Erosion in Bethesda, MD
Turn to Drainage & Erosion Solutions as your walkway and patio installation company in Bethesda, MD. We stand behind our work with a 5-year warranty on hardscape features, including patios, pavers, and flagstone. Whether you need assessment or repair services for drainage and erosion, we have you covered! Contact us today at (703) 534-1949.