Basement flooding can damage your walls, flooring, carpets, furniture, and assorted valuables. If you discover water in your basement, you must assess whether it signals a recurring problem or a one-time incident. Recurring problems with flooding call for wet basement solutions. Whether through cracks in the basement floor, walls, or mortar joints, determining where the water comes from is a job for experts.
Drainage & Erosion Solutions (DES) is an award-winning service provider that assesses and repairs all drainage and erosion issues for residential and commercial properties in Arlington, VA. As a design-build firm, we offer engineering and contracting services with Techo Pro–certified contractors who have decades of design and contracting expertise. We take pride in our happy customers and have an excellent reputation for solving drainage and erosion problems. For your property's drainage and erosion issues, contact us at (703) 534-1949 or fill out an online form today.
Below, we discuss 5 ways water can invade your basement as well as available waterproofing solutions:
1. Cracks in the Basement Floor
If the soil beneath your foundation cannot absorb enough groundwater, hydrostatic pressure may force it through breaches in your basement floor.
2. Through Cracks in Walls and Mortar Joints
An excess of moisture in the soil around foundations causes hydrostatic pressure, which can crack concrete and let water into your home. Water can also get trapped inside concrete blocks, though it ultimately leaks out along the bottom of the wall. Nevertheless, pressure release solutions can alleviate problems with basement floor, wall, and mortar joint cracks.
3. Over the Footer
Water can seep in through cracks between the footer and adjacent wall, damaging the property and rendering the basement useless.
4. Under the Footer
Depending on how your home was built, a tiny gap may exist between the footer and the basement floor. Excess water can enter that opening and then flood your basement.
5. Excess Moisture Inside Walls or Window Sills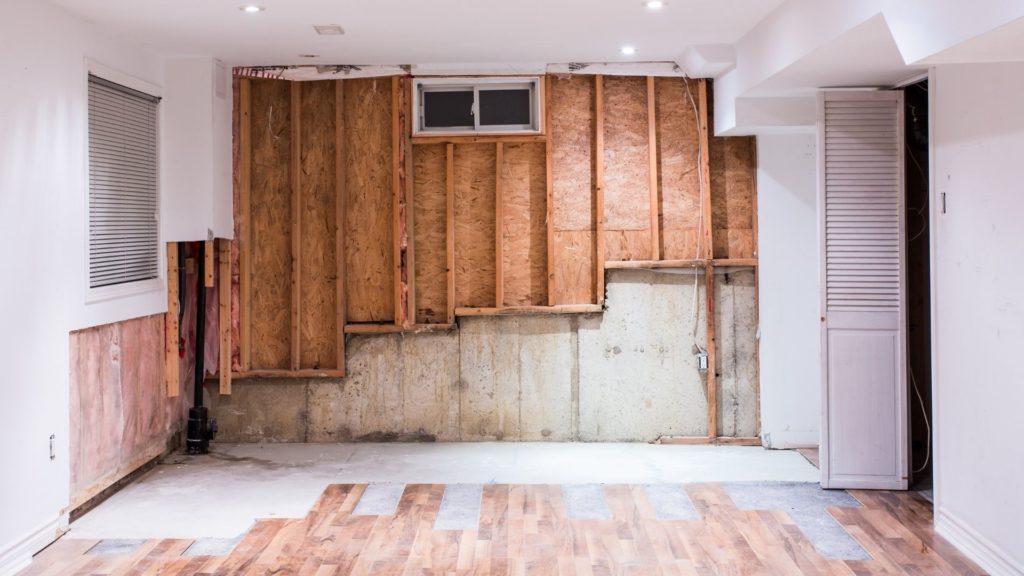 We
Created by an accumulation of moisture, condensation can compromise the performance of your walls and window sills, It may also leak into your basement, causing mold growth and structural damage. Consider installing an egress window in place of an old, leaky window to stop excess moisture from entering your basement.
Waterproofing Solutions
After dealing with immediate flooding, moisture, damage, and mold, consider waterproofing solutions to prevent future basement flooding. Before they install waterproofing, our team checks your property for poor grading, faulty/clogged downspout extensions, and other contributing factors.
Our waterproofing solutions include:
Outdoor Waterproofing:

At DES, our outdoor waterproofing is a multi-step process that not only prevents any further water issues but also supports the structural integrity of the home's foundational walls and alleviates any hydrostatic pressure.

Indoor Waterproofing:

If exterior excavation isn't an option, we also have techniques to seal and repair walls from the inside. Depending on the type of water intrusion present, new waterproofing technologies, such as interior sealants, can be used to keep water out.

Interior Sump Pump Installation:

If exterior excavation isn't possible and you aren't interested in indoor waterproofing, you could also consider installing an interior sump pump. While not a complete solution, a sump pump can keep water off the floors and prevent catastrophic flooding in your basement.
Drainage & Erosion Solutions: Providing Wet Basement Solutions to Arlington, VA
Drainage & Erosion Solutions professionals have extensive experience in providing wet basement solutions for Arlington, VA, homeowners. We explore all possible reasons for water intrusion and guarantee to diagnose the problem at its source. Then, we'll provide you with a comprehensive report detailing our findings and a plan for resolving all the problems we uncover. Contact us as soon as you encounter any flooding in your home at (703) 534-1949.