Drainage swales are shallow, rocky channels that guide water through a landscape to minimize pooling, promote filtration, prevent clogs, and encourage irrigation. Moreover, these ditches act as eco-friendly, self-sustaining permaculture that benefits your landscape. Property owners can install drainage swales with the help of a professional drainage and erosion company.
Drainage & Erosion Solutions is such a company operating in Centreville, VA. We provide knowledge and craftsmanship for all your drainage and erosion needs. We're an award-winning design-build firm that offers engineering and contracting services to devise the best solution for you. For technical expertise, precise attention to detail, and outstanding customer service on your next project, call (703) 534-1949.
Below, we discuss 5 reasons to install swale drainage around houses:
1. Guide Water
Intense stormwater runoff and flooding occur due to heavy precipitation or storm surge. These events can warp your property into a mess of streams, ponds, and mud. Drainage swales, however, prevent this outcome by guiding water into storm drains or a rain tank rather than allowing it to pool on your property.
2. Minimize Pooling
A few well-placed drainage swales can minimize or eliminate pools of standing water in your yard. As a result, your landscape's surface becomes dry and arable, prepared to take on stormwater now and for years to come.
3. Promote Filtration
Moreover, swales improve water quality by filtering out pollution before runoff reaches storm drains, sewer outcroppings, or culverts. Swales' rocky channels allow water to flow instead of pooling in one spot, and the pollutants and sediment in the moisture attach to the stones in the swale.
4. Prevent Clogs
These sediments and other solids can not only pollute the surrounding environment but also clog the sewer and drainage pipes around your property. Clogs can cause excess flooding and other issues. Fortunately, swales effectively distribute rainwater across your landscape, allowing filtered water to enter drains and irrigate the soil.
5. Encourage Irrigation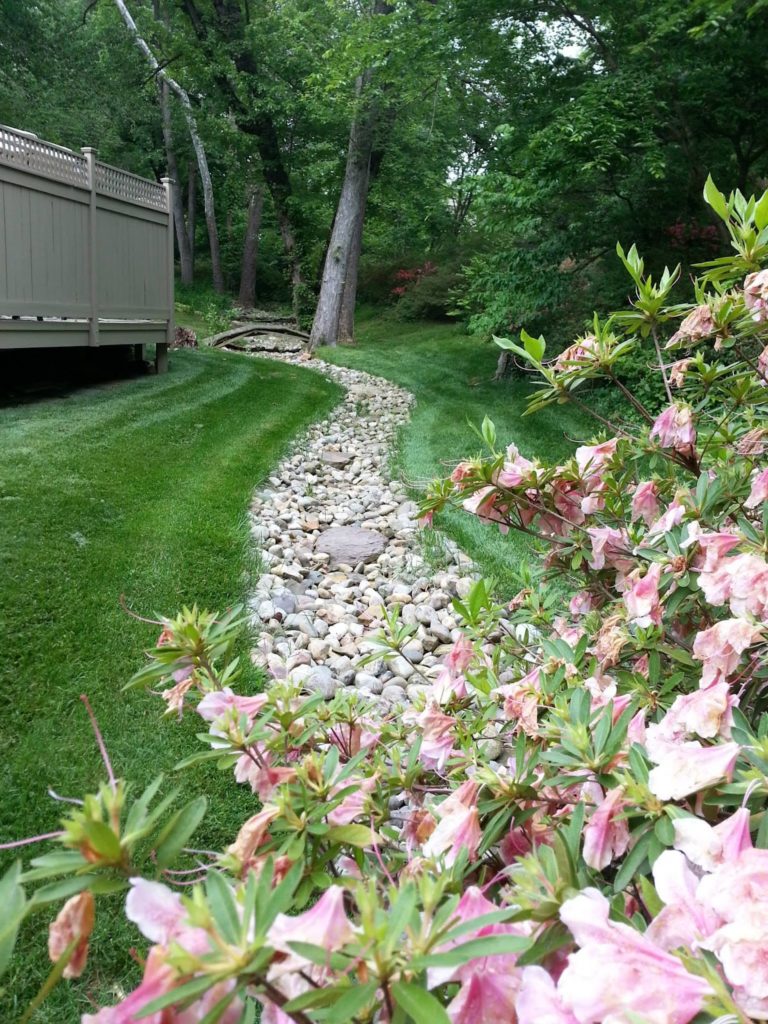 When water drains into a swale rather than pooling on a lawn or asphalt, it infiltrates the soil and irrigates nearby plants. As a result, water is distributed evenly between nearby storm drains and the surface soil. In other words, drainage swales dispose of floodwater by irrigating your property's soil and plants!
Build Drainage Swales Around Your House in Centreville, VA
We know the heavy rain that Northern Virginia experiences, especially in spring and summer. Fortunately, the Drainage & Erosion team comprises experts in drainage swale placement in Centreville, VA, properties. With over 40 years of engineering and landscaping experience, we've built a strong reputation for solving the most obstinate drainage and erosion problems. Look to the experts and contact us online or at (703) 534-1949 today.